Italian Car Enthusiasts...


In our passion for the maintenance and restoration of Italian Cars, and our pursuit of excellence and quality, we have developed into a group that are commited to following a passion for their beloved italian marque.


Lingotto is a district of Turin, Italy, that named the Lingotto building in Via Nizza, which once was a huge automobile factory, constructed by Fiat. Built from 1916 and opened in 1923, the design (by young architect Mattè Trucco) was unusual in that it had five floors, with raw materials going in at the ground floor, and cars built on a line that went up through the building. Finished cars emerged at rooftop level, where there was a rooftop test track. It was the largest car factory in the world at that time. For its time, the Lingotto building was avante-garde, influential and impressive—Le Corbusier called it "one of the most impressive sights in industry", and "a guideline for town planning". 80 different models of car were produced there in its lifetime, including the famous Fiat Topolino of 1936.


The factory became outmoded in the 1970s and the decision was made to finally close it in 1982. The closure of the plant led to much public debate about its future, and how to recover from industrial decline in general. An architectural competition was held, which was eventually awarded to Renzo Piano, who envisioned an exciting public space for the city. The old factory was rebuilt into a modern complex, with concert halls, theatre, a convention centre, shopping arcades and a prestigious hotel. The work was completed in 1989

Lingotto Building 1928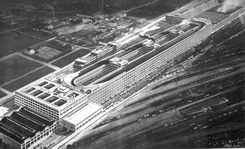 What is a car enthusiast:

A car club or automotive enthusiast community is a group of people who share a common interest in Motor vehicles. Car clubs are typically organized by enthusiasts around type of vehicle (e.g. Dino, Giulia, ), brand (e.g. Alfa Romeo), or similar interest (e.g. Off-roading). Traditional car clubs were Off-line organizations, but automotive on-line communities have flourished on the internet.

Enzo Ferrari never intended to produce road cars when he had formed Scuderia Ferrari (literally "Ferrari Stable", and usually used to mean "Team Ferrari", it is correctly pronounced "skoo deh REE ah") in 1929 as a sponsor for amateur drivers headquartered in Modena. Ferrari prepared and successfully raced various drivers in Alfa Romeo cars until 1938, when he was hired by Alfa Romeo to head their motor racing department.
In 1941, Alfa Romeo was confiscated by the Fascist government of Benito Mussolini as part of the Axis Powers' war effort. Enzo Ferrari's division was small enough to be unaffected by this. Because he was prohibited by contract from racing for four years, the Scuderia briefly became Auto Avio Costruzioni Ferrari, which ostensibly produced machine tools and aircraft accessories.

Italian car manufacturers occupy a special place in the automobile industry of the world. The Italian manufacturers are known for producing some of the most outstanding vehicles that the world has ever seen. From the top class engineering to the stylish exteriors Italian cars have attracted a lot of attention on the international plane. Italian cars are also categorized as being extremely durable and sturdy. Over the years many brand names have managed to establish themselves as authoritative figures on the global market.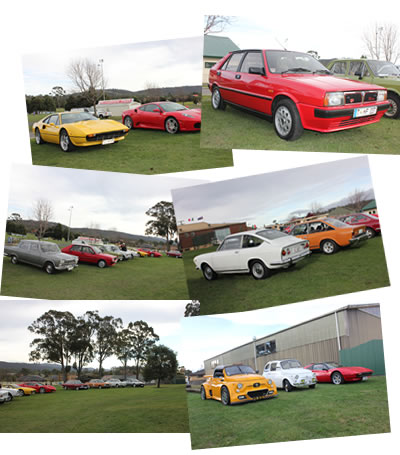 Some Info...



The company that became Alfa Romeo was founded as Società Anonima Italiana Darracq (SAID) in 1906 by the French automobile firm of Alexandre Darracq, with some Italian investors. One of them, Cavaliere Ugo Stella, an aristocrat from Milan, became chairman of the SAID in 1909.

The firm's initial location was in Naples, but even before the construction of the planned factory had started, Darracq decided late 1906 that Milan would be a more suitable location and accordingly a tract of land was acquired in the Milan suburb of Portello, where a new factory of 6,700 square metres was erected.
The Dino 246 was the first Ferrari model produced in high numbers. It is lauded by many for its intrinsic driving qualities and groundbreaking design. In 2004 it was placed at number six on the list of Top Sports Cars of the 1970s. It is truly one of the "Greatest Ferraris of all time".

The name "Dino" honors the founder's late son, Alfredo "Dino" Ferrari, who was credited with the design of the V6 engine. Along with famed engineer, Vittorio Jano, Dino influenced Enzo Ferrari's decision to produce a line of racing cars in the 1950s, with V6 and V8 engine designs. History shows that Alfredo Ferrari did not have a hand in the actual design of the V6 motor that made its way into the Dino.

Dino 246 production numbered 2,295 GTs and 1,274 Spyders, the latter being built from 1972 to 1974 only, for a total production run of 3,569. Three series of the Dino were built, with differences in wheels, windshield wiper coverage, and engine ventilation.

The Dino's 2.4 L V6 found its way into a number of other Italian performance cars after its application in the 246, most notably the Lancia Stratos rally car.